The future festivals project explores new ways of running and attending festivals that include online audiences and performers. Inspired by the events of the global pandemic, when in-person performance was not possible and everyone from headline bands to local folk clubs turned to online performances, we observed, and even participated in this generally unsatisfying experience. Supporting a local folk club to run zoom sessions, we began to tease out the challenges, then teaming up the the Oxjam music festival – a national series of local grass roots music festivals, set up to raise money for Oxfam – to pilot Voxjam, a marathon 12 hour online show, bringing local and national artists 'together' in first a local then a national event. We used off the shelf tools, principally facebook watch party and streamyard to deliver the show.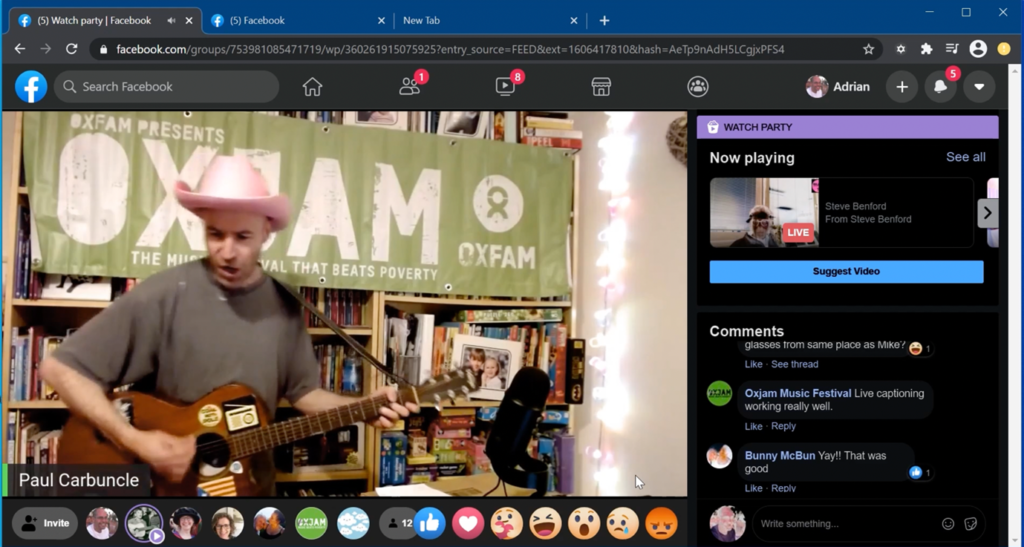 This activity helped us to understand some positive aspects of the online model (e.g. access and flexibility) and some negative (e.g. lack of placefulness, lack of presence, lack of communication, lack of engagement). We also learned a lot about the logistics of running a virtual festival, in particular about volunteering. Any music festival, online or in person, requires many volunteers behind the scenes, but when online, our volunteers weren't at all visible doing lots of work without a sense of being involved in the festival experience.
The platforms offered a very different audience due to availability and access. For instance, new visitors interested in joining events could just drop in from all over the world and they had people who had moved away from the UK and left the group, now able to join back in. However, people were also lost because of the digital divide – those who couldn't access online platforms, or just didn't like using them.
Now that folk clubs (and music festivals) are going back to in-person events, there is a bit of a dilemma. Do they try and retain those new people they've attracted and how do they sustain this?
What we concluded was missing, was a more festival-like experience online. How can we make the online experience closer to being physically present at a festival? How can we connect physically present audiences with remote, online audiences in a way that makes the online audience not feel like passive observers?
We felt we'd learnt as much as we could using other people's platforms, and this led us to do a tech pivot, to move forward and introduce something different.  Hence the creation of the 'Bubbles' platform and move into the world of the Metaverse – a shared virtual environment. It makes a lot of sense in this case for an online experience, where we are trying to achieve a feeling of 'placefulness'. The aim being to take people from simply a stage, into a world that is full of lots of other things to experience, for instance games, zones, stuff to explore, hang out and chat with people without having to listen to the artist – in fact all the usual stuff that being at a festival is all about!  Our platform is social in the sense that it has avatars, and the audience can chat together alongside audio and video content. What makes it different is the mechanism called 'bubbles' – introduced to enable people to be in a 'bubble' with a group of people they choose, whilst everyone else appears as a ghost-like presence.  The aim of 'Bubbles' is to give people the sense of being in a group, say for instance with family or friends, while having the feeling of being in a crowd – with the opportunity to break away from your 'bubble' and join another! We also took cameras to the face-to-face festival to film the audience and performers and in addition we placed the volunteers into the virtual 'world' by introducing a steward's 'bubble', so that the online audience could find and interact with them.
So with version one of 'Bubbles' under our belts, we ran another instance of the Voxjam festival, this time as a hybrid between a bubbles-based online festival site and a physical festival site.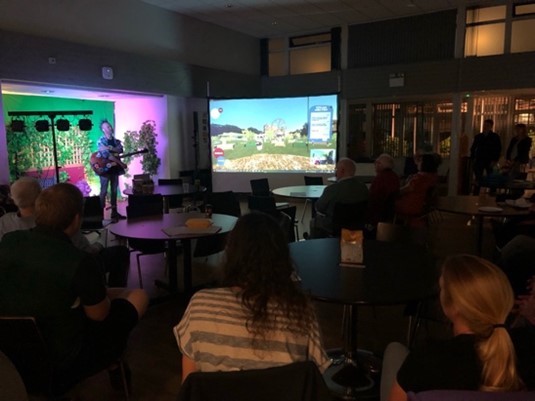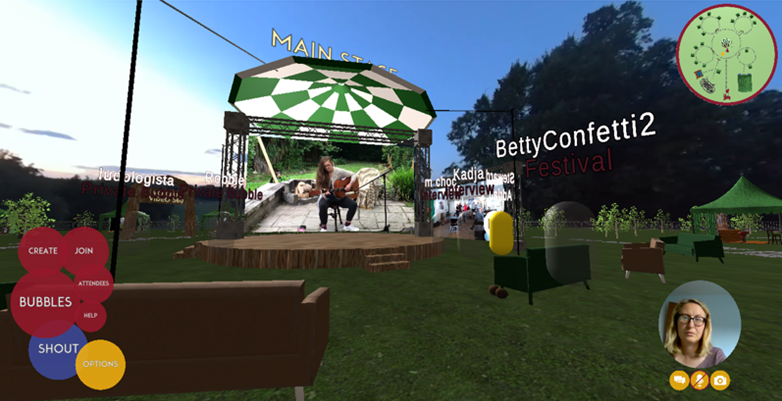 After the event we interviewed our audience participants and they told us that they had felt a sense of 'placefulness' with half of them also feeling 'socially connected' to other members of the audience. We also ran a few events in the system, including our annual mixed reality laboratory Christmas party, and created a video about the metaverse for computerphile.
We took these findings into the second iteration of 'Bubbles' and in addition to being in social 'bubbles', introduced parallel 'worlds' enabling people to be in different worlds at the same time and yet still interact with each other. This facility allows individual worlds to each access different types of content – useful when considering age restrictions or payment options. We've also been looking at content, for instance how it's loaded and where we can get it from and trying to make it open source.
The second iteration of 'Bubbles' includes a range of worlds, with a range of exciting applications, including a gallery for Nottingham University's Diversity Festival, simulating spaces on the new Castle Meadow Campus, Hybrid interactions with models, A forthcoming exhibition with the National Holocaust Centre and Museum, the Live Xinema festival in September, and a spatialised album from our artists in residence 'Threaded'.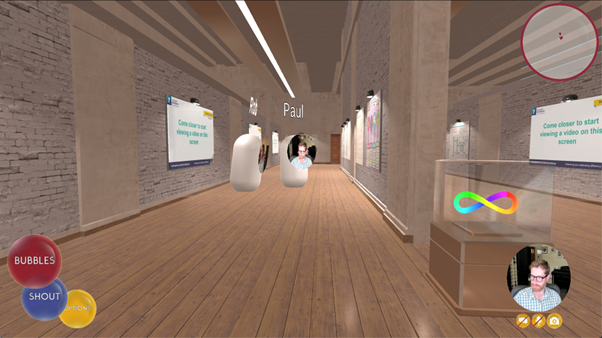 Suddenly 'Bubbles' is not just a single event proposition, but rather a flexible online communication platform supporting social activities in 3D spaces. One thing that sets it apart from similar software, such as Mozilla Hubs or VR chat, is its extensibility – worlds are built in Unity and fairly trivially exported to the bubbles platform. This means that the aesthetic quality of the world can be extremely high and the barrier to entry for making worlds is quite low. Additionally, the unique interactional possibilities of 'bubbles', 'dimensions' and 'universes' make it both scalable and flexible.
We recently presented our project to Members of Horizon's Advisory Board, and it generated some really interesting discussions about things such as Avatar design, how to bring food and drink into a virtual festival environment and taking up residence – for instance over a weekend – rather than a few hours. We found this extremely useful as it gave us plenty of ideas and topics to consider for future research within this space.
Watch this space for more!